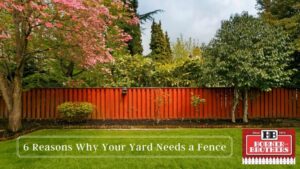 6 reasons why your yard needs a fence – After spending much of the past one and a half years in the safe confines of our homes, we're eager to gather and reconnect with others. Yet, even though there is more freedom to travel, our homes have also become a welcoming solace for life's stresses.
Whether you made home improvements inside, saw the return of college students, or learned to live in your space differently, "home" has taken on new meaning.
As warmer weather brings us outdoors, it's the perfect time to decide if a fence is right for your yard. How will you know?
See which of these 6 reasons why your yard needs a fence applies to you:
1. Considering or adding a pool – Most towns/neighborhoods have fence requirements for both above and in-ground pools. Be sure to check your local ordinances to maintain compliance, as well as with your homeowner's insurance.
2. New pets – Have you welcomed a new four-legged family member to your home recently? Keep them safely confined within your yard without the hassle of puppy runs or leashes and help protect them from wild predators.
3. Privacy – Are you embracing solitude and a quieter lifestyle? Enhance your privacy with a fence supportive of a newfound appreciation of seclusion.
4. Small children – Give young ones freedom to explore within the confines of comfortable boundaries. Minimize the worry of distancing from busy streets while maximizing their ability to play.
5. Protection – Is there a busy street nearby? Is foot traffic close to your yard? Security of your space, landscape, children, and pets provides greater peace of mind.
6. Increase home value – Whether you are considering selling or merely adjusting to the recent increase in home sales, a new or updated fence can increase your home's value and selling potential.
Do you think that a fence fits your home goals and lifestyle?
Let's next take a closer look at the fence styles and materials that would best benefit your needs and yard.
For over 40 years, Horner Brothers has been committed to protecting and beautifying communities. We're honored to create the space where your family doesn't just have to stay, but a home where they can thrive.
To request a free quote or consultation for your home or commercial fencing needs, contact Horner Brothers at 609-298-6438.
Visit us on Facebook at https://www.facebook.com/hornerbros/