14 Must-Ask Questions for Choosing the Right Fence – Not all fencing projects are created equal. Each fencing project has unique needs and calls for a different material to meet those needs.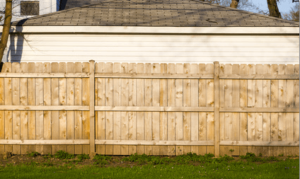 How will you know which material to choose to meet your fencing needs?
These questions can help you zero in on the best type of fence for your project: First, you need to narrow down the specifics of your project.
What will be the purpose of the fence? Is it merely aesthetic? Or does it need to keep animals or children in or out of a property?
What is your budget for a fence? Decide this number before shopping so you know the range of fencing you can afford. Some projects prioritize a low price. Other projects see value in a larger budget to purchase the highest quality to save money in the long run. Still, if safety is the priority, then you don't want to skimp on cost.
Can you keep up with the maintenance? Some fences require more maintenance than others.
Once you've defined your needs, you can look at which fencing materials will meet your exact requirements.
Do you need to mark a border? Choose among aluminum, vinyl, wood, chain link, or split rail.
Do you need the fence primarily for privacy? Choose wood or vinyl which both offer solid surfaces to prevent onlookers from having a view.
Do you need to boost the curb appeal of your property? There are so many designs available in both wood and aluminum to match your home's style and increase your property value.
Is security your top priority? Choose aluminum or chain link so that you can keep an eye on your perimeter while keeping unwanted visitors off of your property.
Do you need fencing around your swimming pool? There are many safe and secure options. Choose among aluminum, vinyl, wood, or chain link.
Do you need to keep your pets in your yard? Aluminum, vinyl, wood, or chain link can work to keep your pet from running off or preventing other animals or people from getting to your pet.
Is your fencing going to corral your farm animals? Depending on the type of farm animal, you could select from split-rail, wood, chain link, or aluminum.
Is low maintenance your highest priority? Chain link or aluminum are your best options.
Do you need fencing to keep pests out of your garden? Wood with chicken wire or even an electric fence would be best. Ask about the different heights of wooden fencing available.
Could you mix and match types of fencing? Absolutely! For example, for curb appeal, you could install a classic white picket fence across the front of your yard, but use a chain link for security along the sides and back of your property.
Do you need more guidance on choosing the right fence for your project? Call Horner Brothers today at 609-298-6438. Since 1972, Horner Brothers have been experts at fencing installation and helping customers like you choose the proper fencing to meet their needs.
Follow us on Facebook: https://www.facebook.com/hornerbros
Editor's Note: This is an updated version of a post that originally ran in 2017.