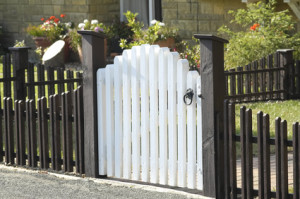 If you are considering installing a fence here are a few things you might want to take into consideration before installation.
Consider your Curb Appeal
One of the most important things to consider when choosing your fence is the style of your home. You will want to choose a fence that flows seamlessly with your home's style and design.  Look at the design elements of your home and choose a fence that fits in naturally with your home's overall style. Adding a fence is a great way to punch up your home's curb appeal.
Also, if you live in a neighborhood or development with a Homeowner's Association you will want to check their rules for installing a fence as well, as there are usually regulations about the style and installation of the fence.
Find out Zoning Regulations For Your Neighborhood
Before breaking ground on your fence project, be sure to find out any zoning regulations for fence in your neighborhood or township. Often times there may be local regulations regarding how close a fence may be installed near a property line, or how tall of a fence may be installed. Make sure you know all the rules and regulations of your neighborhood before you install your new fence.
Consider the Function of Your Fence
Much of your fence's design will depend on the function of the fence. Will you need to install a gate? If so how many? What will the fence be used for. Will it be used for privacy? Will it be used for the safety of children or pets? These are just of a few of the questions you will want to ask yourself when considering which type of fence you will want to install.
At Horner Brothers we can help you choose the right fence for your project whether it be a dog run, pool fencing or a regular backyard project.
Choose Your Material
Choosing the material of your fence is a very important. Vinyl fencing does not require painting or staining. It is generally easier to clean, requires little to no maintenance. Wood fencing on the other hand is more cost effective, but will require more maintenance over the lifetime of the fence.
At Horner Brothers we have a wide selection of fencing to choose from including wood, vinyl, aluminum and chain link. We can help you decide which type of fence is right for you and your budget.
Hire a Professional
The most important thing to do before installing a fence is to hire a professional.  Hiring a fencing contractor like Horner Brothers will ensure that your fence project will be done quickly and correctly. Installing a DIY fence can be extremely challenging, and even dangerous. By hiring a professional fence company like Horner Brothers you will save yourself time, and energy by letting the experts do what we do best.
Why not give us a call today to find out more about the type of fencing and other services that we offer? Contact Frank Horner at (609) 298-6438 or Contact Us Here.