Charles Schultz once said, "Happiness is a warm puppy."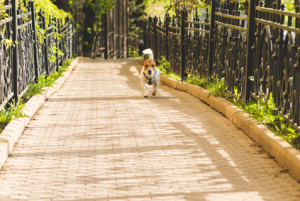 This statement is especially true for many American families today. It's hard to imagine life without our loveable companions by our sides, we love to pamper our pooches. While they are loveable they can also be a little wild and crazy!
Many owners have a dog that likes to escape and run with wild abandon in any direction they can. While it can be fun to allow your pup a little freedom, it can be dangerous if they are running in the direction of a busy road, or running with no intention of coming back. If this sounds like your Fido, a simple solution can be adding a dog run to your backyard.
There are a few things to consider when making the decision to add a fenced dog run to your backyard.
How do you Fence a Dog Run?
First you will want to pick the perfect place for your dog run. Choose a spot in your yard that allows your pet ample room to run. The size of your run will depend on the size of your dog. The larger the dog, the larger your run should be. Also keep in mind that you will either want to pick a spot that has some shade for the warmer months of the year. Another option is adding a doghouse.
Finally you will want to make sure that the spot you have in mind is safe for your dog. If there are any safety hazards you will want to pick a different spot or clear these away before building your dog run.
Now that you have picked the perfect spot it's time to consider what materials you will use.
What Fence is Best for a Dog Run?
When picking fencing material you will want keep in mind your budget, and the look you want for your yard. At Horner Brothers we have many fencing options available for you to choose from. The height of
your fence will also depend on your dog. If you have a larger dog, or if you have a dog that is adept at jumping, you will want to install a taller fence.
Another important concern for your dog run is the type of flooring material you will use for your run.
Will you keep your grass or would you prefer to add a soft material like mulch or pea gravel? If you have a dog that likes to dig, it might be important to pick a harder material such as concrete or other hardscape.
Since installing a dog run is an investment, it's best to hire a professional to do handle your fence installation. An experienced fencing contractor will ensure that your fence is installed properly and is safe for your furry friend.
Creature Comforts
Once you have installed your dog run, it's time to think about helping your pooch feel at home in his new space. Make sure that if you have chosen to add shelter or a doghouse to the space, that you place it in the center of the dog run. By doing so you will prevent your dog from standing on the shelter and jumping over the fence. Also be sure to add a spot for water so your dog can stay hydrated especially in the summer. Finally, add some of your dog's favorite toys to add a little of their own personality to the space.
At Horner Brothers, we can help you answer all these questions and assist you in designing the dog run you have in mind. Contact us today and we can help you plan the perfect space for your dog.
How About You?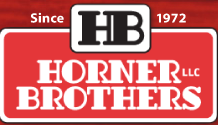 If you want to create a dog run with a fence? Hopefully you have found these tips helpful.
At Horner Brothers we can help you not only in choosing and caring for your fence, but also on landscaping and a variety of other services.
Feel free to contact Horner Brothers here or at (609) 298-6438