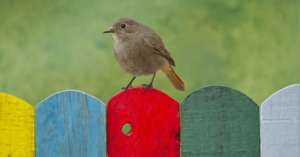 Springtime inspires beauty and creativity! With warmer temperatures and more time spent outdoors, it is the perfect season to dress up your yard with beautiful, practical, and fun décor.
Your wood fencing offers a canvas of limitless possibilities for enhancing your outdoor enjoyment, so why not try something new this spring?
Blanket-style holiday lights make a beautiful drape of soft, twinkling light for a romantic outdoor atmosphere. One set of lights sets a beautiful scene, or cover an entire wall for a more dramatic effect.
Decorating with picture frames has been a popular trend for indoors settings, but can also be used to decorate the outdoor fence. Arrange frames of varying sizes, colors, and shapes for a unique visual display. Window framing can also add interest and beauty.
Mount wood or plastic crates for shelving or storage. Crates may be fastened with the opening facing outward to create shelving for flowerpots, garden gnomes, or any other outdoor accents. Crates may also be fastened with the opening facing upward to be used as storage bins for outdoor toys such as plastic balls or sand toys.
Travelers may collect flags or other souvenirs from each state or country visited, which may then be displayed on the wood fencing as a beautiful reminder from year to year of past vacations.
Kids love to be outside, and they love to help decorate! There are several ways to involve children in decorating your wood fence to make your yard a fun place for the whole family.
Let children or grandchildren create a mural on your wood fence. Each child may decorate a section, or all can work together for an integrated creation. When you are ready for something new, simply paint over it again!
Paint each slat as the spine of a favorite book, or paint slats as giant crayons of varying colors. Slats may also be painted as simple stick representations of various family members, pets, and friends.
Paint a huge bulls-eye on the fence, and use it for a water balloon dart game.
Affix outgrown rain boots to the fence as planters. Children and grandchildren will love watching flowers or vegetables grow out of their old boots. Plastic sand buckets may also be used as planters, with shovels added for accent.
There is no better time to get creative and have some outdoor fun that expresses your unique taste and sense of adventure. Wood fencing from Horner Brothers can get you started.
Horner Brothers believes in beautiful fencing and would love to design and install the perfect fence for your yard. Visit HornerBros.com or call Horner Brothers at (609)298-6438 for more information.