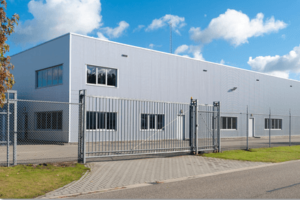 There is so much responsibility on the plate of a business owner. Taking time to install a fence may not seem like a priority at first glance, but there are many ways fencing can enhance a business.
Here are 5 uses for fencing that every business owner should consider:
Security – keeping the right people in.
If you are running a daycare, you need to be sure that the little ones are safe inside the fenced-in play area so that they stay supervised. The gate needs to be secure as well. The same is true if you work with animals where you need to be sure that your charges stay.
Security – keeping the wrong people out.
Chain link fence is a good choice for keeping out thieves or trouble makers while still being able to observe any unusual activity.
Create a clear boundary for what property is yours.
If your business is close to other businesses, you need to do your part to mark clear boundaries.
Create a clean look.
Curb appeal isn't just for the real estate market. People are more willing to visit a business property if it looks clean and well taken care of. Fencing can also give a property style. You would much rather have someone ask "Is your business the one with the charming white fence?" as opposed to "Is your business the one with the messed up front yard?" Need a historical look? Split rail is just what you are looking for. Need a soft, sturdy look? Try wood.
Recreational areas.
If you are in the type of business that has recreational areas, you will need a reliable, sturdy fence. This is the case whether you need a baseball backstop, a fence around a tennis court, pool fencing, or playground fencing.
If you are running a business, we understand that your time is valuable and you need the best value for your dollar. We understand since Horner Brothers is a small business too, with years of experience. We are experts in fencing and we know what kind of fencing can get you the results you desire to enhance your business. Contact us so we can help you choose what fencing is right for you.