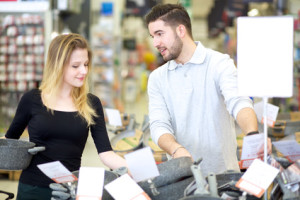 Tax season is now upon us, and many people may be trying to decide what they should do with their tax refund. If you are looking to do any home remodeling there are some very important things to consider when picking a space to remodel with your tax refund.
Determine Your Budget
The first and most important consideration you should make should be how much you want to spend on your home improvement. Will you be using all of your tax refund to remodel or will you use only part of it? Will you be supplementing your budget with a home equity loan? These questions will need to be answered in order to establish your ideal budget. Different improvement projects will have different costs associated with. Having a ball park figure of what you would like to spend should be your first step.
Consider Urgent Repairs
Once you have established a budget for your home improvement project it will be easier to pick a space to remodel. At the top of your list should be any necessary repairs or improvements that need to be made to your home, or of an urgent nature. Perhaps it's time to finally fix the cracked concrete outside your home, or you have decking or roofing that needs to be repaired. Consider doing these projects first before taking on a bigger project.
Kitchen and Bath Remodels
These are two of the biggest home improvement projects to take on and will make the biggest difference in your home. Because of the nature of these projects, take your time to research and decide what you want in either a kitchen or bath project. Your kitchen or bath will likely last you for the next 20+ years, so really consider what you want before jumping into a kitchen or bath project. Some things to consider will be;
Will you be adding to existing space of the kitchen or bathroom.
Think about the layout of the kitchen or bathroom and if there is anything you would like to change.
Think about what cabinetry and other materials you would like to use or like the look of. Sometimes there are similar more cost effective options.
Will you be attempting this project on your own. If you are perhaps you might want to think about why hiring a professional is a good idea.
Finish Your Basement
Finishing your basement is a great improvement to your home. It not only takes advantage of wasted space and adds square footage but is a versatile choice. A finished basement space could be another living room, bedroom, play room, craft room… the possibilities are endless. Not only that but according to Remodeling- Cost Vs Value for 2016 in the Philadelphia area, a midrange basement remodel a home owner can expect to recoup up to 50% of the project costs in resale value.
Exterior Improvements
Exterior home improvement projects sometimes take a backseat to interior remodeling projects, but these are worthy of looking at all the same. Whether you are considering replacing siding on your home, landscaping your property or adding a fence for privacy or pets, exterior home improvement projects are important to the quality of your home and can make a big difference in curb appeal!
Let Horner Brothers Help You Create It
Whichever home improvement project you decide to do with your tax refund, consider calling in the professionals. If you can dream it, trust Horner Brothers to help you create it. Our work crew are trained, licensed and reliable.  We are willing to work hard to get the job done for you.  We take the time to come out and look at what it is that you want to do around your property.  Whatever it is that you desire, we will take the time to get it done for you.
Not only that, Horner Brothers specializes in remodeling, additions and extensions that make the most of your primary living space. Feel confident allowing us to create safe, useful living and storage areas from otherwise wasted, below-grade space with our knowledgeable basement refinishing and intelligently engineered entry systems.
We can also add beauty, functionality and privacy to your outdoor spaces with experienced fence and concrete design and installation.
Contact Horner Brothers today at (609) 298-6438, and we can to help you decide which home improvement project is right for you!