Tom and Barbara have decided that this is the year they will finally install the pool they have been dreaming of in their own backyard. They are looking forward to having the kids and the grandkids over and relaxing and playing together. They are also looking forward to the low-impact workout that swimming provides during the summer months.
As Tom and Barbara are planning for the pool, they realize that in addition to the pool, they also need to plan for the fence around the pool.
If you are like Tom and Barbara, you will also need to consider fencing for your backyard pool.
Why a fence?
Keep out unwanted visitors who are purposefully looking to pool hop (Bueller, anyone?)
Keep out unwanted visitors that may accidentally wander into a pool such as small children and pets
To prevent liability in case there is any type of accident with unwanted visitors
To satisfy insurance company requirements
To satisfy requirements from the state or local government
What kind of fence should I use around my pool?
For safety, you'll want your pool to include a locking gate, be strong, and be tall. If you live in a neighborhood, you may also want your pool fence to provide privacy for your family and friends who are cooling off in the water. You will want your fence to be easy to maintain so you can spend more time in your pool than you spend fixing up the pool fencing.
Some popular choices for pool fencing:
Aluminum
Vinyl
Wood
Chain-link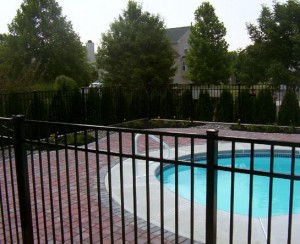 Horner Brothers have several different attractive and popular pool fencing options that meet swimming pool fence enclosure codes. Check with your individual insurance company and local government to be sure of the codes for your area. Horner Brothers can also help you understand the codes since we have 45 years of experience with the pool fencing codes in the Hamilton, New Jersey area. Give us a call today.