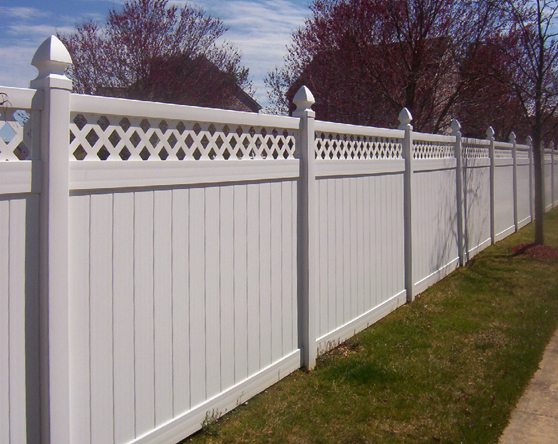 Fencing is a great way to define your yard, create privacy, security and keep pets and children safe. Implementing a fence on your property will give you the peace of mind and security you are looking for. When it comes to fencing there are lots of options to choose from. Here we have broken down for you our Top 5 Fence Types for you to choose from.
1. Vinyl Fencing
Vinyl Fencing is an excellent choice for your residential property. It comes in a variety of styles including:
Semi-private
Private
Picket
Rail
Vinyl Fencing is attractive to the eye, and is low maintenance. All that is required to keep it looking new and fresh is soap and water. Horner Brothers offers both Country Estates Vinyl Fencing, which offers the largest array of fencing, as well as Hometown Vinyl.
Read more about Vinyl Fencing and Country Estates Vinyl Fencing options here.
2. Wood Fencing
For budget conscious consumers, Wood Fencing is the leading choice for privacy and security. Affordability is why many homeowners choose wood fencing.  Wood Fences also come in a variety of choices from split rail fencing, milled spruce stockade fencing to white picket fencing and more. And wood fencing can be painted or stained to suit the look of your home and property.
Read more about Wood Fencing options, including cedar fence styling options here.
3. Aluminum Fencing
More and more home owners are beginning to consider aluminum fencing for their yards. This could be because aluminum fencing offers a traditional look without maintenance. There are many options for style, color and height, which makes them a popular choice. At Horner Brothers we offer Jerith Aluminum Fencing.
You can learn more about Aluminum Fencing and download our Jerith Aluminum Style Guide here.
4. Chain Link Fencing
Chain link fences are a great choice for both residential and commercial use. They offer security, protection and containment. Chain link fences are maintenance free and are strong, long lasting choice. It may surprise you to know that they also come in a variety of styling choices and colors.
Read more about chain link fencing here.
5. Specialty Fencing- Pool Fencing & Pet Fencing
Horner Brothers offers fencing that offer security and safety both for your pets and children, as well as every member of your home.
Pet fencing will give your pet a safe place to run and play, as well as keep your neighbor's pets out of your yard.  Horner Brothers offers:
Fenced Yards
Dog Kennels
Dog Runs
Horse Fencing
Pool Fencing can be both attractive and safe. Horner Brothers fences are designed with specific spacing, styles and heights to meet swimming pool fence enclosure codes.
Both Pet and Pool Fencing come in a variety of styles including aluminum, vinyl, wood and chain link.
Read more about pet fencing and pool fencing now.
Bordentown, NJ Fencing Experts
Horner Brothers, LLC is the Bordentown, NJ Fencing Experts. When we come out to your property, we will take the time to ensure nothing is left to chance. Making sure your property is protected with the proper type of fencing is imperative. Instead of leaving things to chance, you can sit back and let our experts go to work for you.
Experience the Horner Brothers difference for yourself today, by calling (609) 298-6438 and finding out what we can do for your fencing and concrete needs.