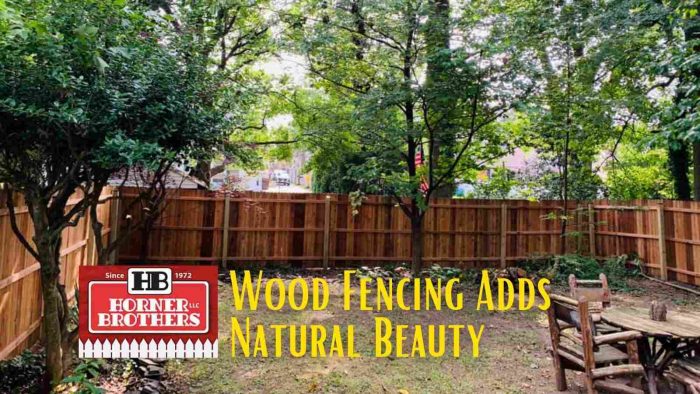 When selecting a fence for your property, there are many styles and materials to consider. Vinyl, aluminum, and chain link are popular choices, but traditional wood is still the leading, most affordable fencing available. Wood Fencing Adds Natural Beauty!
Wood Fencing Adds Natural Beauty
If you want a fence to blend in with natural surroundings, wood is the choice for you. Not only does it offer more privacy than a chain-link fence, but it can be painted or stained for a customized look or allowed to age and season naturally.

Wood is relatively easy to repair and maintain or repaint if you want a new look. Wood fencing adds value to your home, whether installed for privacy, the safety of children and pets or to add curb appeal.
Cedar Fence
Cedar has a tight grain, which makes it more durable than most other woods and less likely to crack or splinter with nails or screws. Red cedar has a naturally vibrant color, so there's no need for paint or stain. Cedar is also rich in oils that protect the wood from warping and decay in damp weather and repels insects from damaging the wood. Although cedar is generally more expensive than other wood types, your cedar fence will last at least twice as long.
Spruce Fence
If the color or scent of cedar is not for you, then spruce is another option. Since spruce is light in color, you can easily paint it for a distinctive, personal look. Spruce is not as durable as cedar, but it is more affordable. Using a stain or sealant is recommended to increase longevity.
Wood Fencing Adds Natural Beauty, Privacy, Security and more!
You can't go wrong with the natural beauty, versatility, and durability of wood. Whether it's for privacy, security, or an expression of your individual style, select the pattern and style option that works best for your needs.

Horner Brothers offers red or white cedar in 21 patterns and 6 picket types to choose from for your perfect cedar fence. If you prefer, select split rail or milled spruce stockade. Split rail is a great choice to distinguish boundaries, while stockade fencing is perfect for privacy.
Contact us!
Adding a fence to your property is a significant investment. The folks at Horner Brothers can help you choose what works best for your property, needs, and budget.

Fall is a great time to schedule a site visit with us to discuss the details of your fencing project. Contact Horner Brothers at 609-298-6438 today.