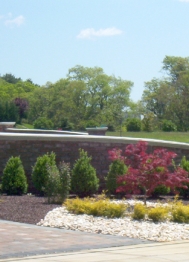 Imagine sitting back, listening to the sounds of the birds chirping, the wind blowing and the leaves bustling in the breeze. You can have all of this in your own backyard, complete with a number of colorful flowers, green plants and rich soil. A beautifully landscaped garden will help provide you with a number of reasons to maintain your garden and keep your plants growing big and strong. Your garden can become a peaceful haven for you to enjoy for years to come.
Adding in Appeal and Beauty
One of the biggest advantages to having a landscaped garden is the appeal it brings to your property. Enjoy the trimmed grass, vibrant hues and plant box blooming with different flowers. When you hire a landscaping service, you don't have to spend hours trimming all of your bushes, raking the leaves and pulling the weeds from the flower beds. All you have to do is sit back and relax in your nice, peaceful, beautifully maintained yard.
Save on Your Energy Usage
All of your hedges, bushes, shrubs and trees can protect your home during the harsh, winter months. These greens can help to shield you from all of the freezing winds, while absorbing the rays of the sun. They are more helpful than what you might think when it comes to giving you the natural protection you need to handle the most of extreme weather conditions. Since your home won't be stuck depending on just your HVAC system, you can save a fortune on your energy bill.
Shelter the Wildlife from the Elements
When you have trees, grass, flowers, shrubs, hedges and a garden, you can help provide a home for a number of different wildlife. Your garden will draw in insects to help with pollination. Squirrels and birds will flock to your yard as well. Landscaped gardens are a great shelter from potential predators that roam about. They can provide animals with food and shelter as well.
Increase the Value of your Home
When you have a garden that is well taken care of, it will increase the value of your home. A garden that is healthy and appealing will increase your appraisal value. Landscaping that isn't taken care of is going to deter others from looking at your home. If a potential buyer cannot make it past the outside of your home, it isn't going to matter what the inside looks like.
Everyone wants to live in an area that is peaceful, healthy and abundant. By having your yard professionally landscaped, it will give you the haven you desire in no time. Regardless of what type of budget you are working with, you can get everything you need at a price you can afford from a company you can trust. Give us a call today to discuss your landscaping needs.