In our spotlight fence series, we've already talked about Vinyl Fencing for your property. This month we will talk about the advantages and disadvantages of installing an Aluminum Fence on your property.
Basics of Aluminum Fencing
Aluminum Fencing offers the beauty and protection of wrought iron fencing without the associated maintenance. It comes in a variety of heights, colors and styles, and is perfect for residential, commercial, pool and pet fencing.
At Horner Brothers we use Jerith Fencing, a family owned manufacturer which has been producing Aluminum Fencing in the United States for over 50 years. Jerith Aluminum fences are better than a lot of other Aluminum Fencing on the market for many reasons.
First, because it has a FencCoat Finish, meaning it withstands 3,000 hours of Salt Spray testing and 5 years of exposure in Florida, versus 1 year and 1,000 hours for our competitors. It uses HS-35 Alloy for maximum strength. Jerith Fences also have better Alloy castings than some of the more common cheaper alloys used by other companies.  Residential and Regency fences use screwless technology, meaning we use hidden stainless steel fasteners to join our fences, rather than flimsy plastic screws used by other manufacturers. Finally Jerith Aluminum Fences come with a lifetime warranty.
Strength and Durability of Aluminum Fencing
Jerith Fencing gives the consumer the best of both worlds with their aluminum fences which are "as strong as steel." Jerith has developed the alloy HS-35 which gives its aluminum fence the strength of steel without the rust! It has a maximum strength of 35,000 pounds per square inch, which is higher even than the standard 16,000-33,000 psi found in standard steel fencing. Every post and rail includes the HS-35 alloy. Jerith also uses high strength alloy in its pickets, the only manufacturer to do so. Jerith Aluminum pickets are 50% stronger than other aluminum pickets.
An independent testing laboratory found that typical Jerith Aluminum Fence can support over 350 pounds per section and Jerith industrial aluminum fence can support over 1,000 pounds! This strength will certainly assure your fence will last for many years to come.
The Lifetime Warranty of Jerith Aluminum Fencing guarantees against defects in workmanship and materials as well as chipping, peeling or cracking of the FencCoat finish for as long as you own your fence. Since Jerith has been in business for more than 50 years they know how their products stand the test of time. You can be confident in your Jerith Aluminum Fence.
What about Aluminum Fence Cost?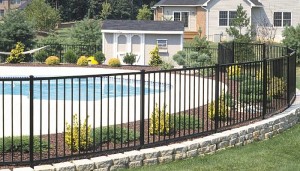 Aluminum Fencing is generally considered by most consumers the most "high-end" option as far as esthetic appeal and cost. While Aluminum Fencing most certainly adds a stunning ornamental quality to any yard in a variety of heights, colors and styles of fence- there is an associated cost.
When considering your budget for fencing it is important to consider the cost of maintaining the fence over time. Chain link fencing is generally the cheapest option for a new fence, but the appearance of the fence leaves something to be desired. Wood is also an inexpensive option, but there is required maintenance and the life of a wood fence is generally much shorter than vinyl and aluminum options. Vinyl fencing costs about the same as aluminum fencing, and there is no associated maintenance.  There is a chance that vinyl fencing can crack in cold weather.
Jerith Aluminum Fencing has an ornamental quality, is maintenance free, and comes with a lifetime warranty—meaning as long as you own your fence you are guaranteed of its workmanship and materials. Aluminum Fencing, while "high-end" is an investment that will last for the entire time you own your home.
Why Horner Brothers?
Aluminum Fencing can bend or dent if proper grading isn't used. With Horner Brothers you are putting your fence in good hands!
Fence installation and design is one of our most popular services. Not only will you save your back in DIY installation, but your project will be done in a timely matter, and done the right way—the first time! Our crews are licensed, trained and reliable! Our professionals are certified through the American Fence Association so you can be sure your job will be done right.
Call 609-298-6438 today and speak with our fence experts. We can help you decide the best type of fencing you need for your property. Remember, we also offer dog fences and pool protection fences. You can also request a quote here.